We have exactly what you're looking for at the best prices and products built to the highest standards. Our three showrooms located throughout Southern California have our incredible products on display. Each showroom features a variety of game tables from brands like Brunswick, Canada Billiards, California House, and more! Our experienced and knowledgeable staff can help you find exactly what you're looking for and walk you through all the available designs and customization options.
Come see for yourself! Visit any one of our stores in SoCal today.
Our Showrooms:
Fullerton – Orange County – 5,000 sq. ft.
San Marcos – San Diego County – 7,500 sq. ft.
Newbury Park/Thousand Oaks – Ventura County/Los Angeles County – 8,000 sq. ft.
Things To Consider When Buying A Gaming Table
Game tables like poker tables are no small investment. Choosing the right one can have a big impact on your wallet and your entertainment room, so make sure you're getting the best quality so it will last for years to come. The table's design should also fit in with the rest of your game room. Here are some factors to consider before choosing the right one for you.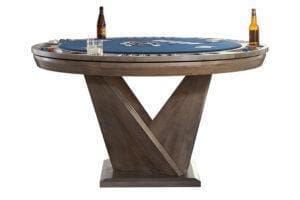 Determine the right size for your space.
It may come as a surprise, but game tables — especially if they're multi-functional — can come in a variety of sizes. You want to make sure there's enough space to comfortably seat everyone as you play the card or board game of your choice. The table should also be measured so the room you put it in doesn't feel cramped when your new, beautiful game table gets installed. No one around the table should feel like they're being uncomfortably crowded or cramped.
The size of a game table usually refers to the diameter, but it can also refer to the height. For those who may need a little more leg room, this can be just as important as the diameter of the playing surface. There is a range of heights, which often depends on the brand, the make, and the model of that particular piece. Average game tables can range anywhere from 28 to 50 inches tall.
Don't overlook the style of the table. You want something that looks right at home in your entertainment space, not something that clashes with the design and decor of the room. Companies offer a variety of styles and finishes where applicable to ensure the customer gets something that matches their vision. Many companies also offer a variety of cloth options and colors so your table matches the decor of the rest of the game room. In the case of game tables, this might also include the shape, such as round or octagonal, and segment style. You decide whether you want your gaming table to have chip slots, cash trays, or even a mix of both and we'll find the perfect table for you!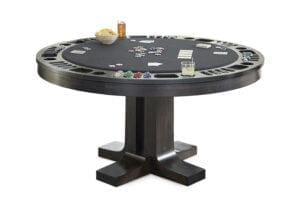 The wonderful thing about many game and poker tables manufactured today is that they can be made to serve dual functions. Many of the brands offered at West State feature the ability to easily flip the tabletop over to transform the furniture from dining or end table to a poker table and back again! Non-slip protectors in many of these models help keep the top secure no matter what it's being used for.
This feature also makes these products a wonderful space saver for anyone who is conscious about how much space they have available. Plus, these products are designed with ease in mind, so no need to worry about cumbersome furniture pieces.
Keep in mind the quality.
It goes without saying that if you're going to invest a lot of money into this new piece of furniture, it should be made to the highest quality standards the industry has to offer. You want a product that will stand the test of time and anything else that happens to it. Accidents happen, so you don't want a table that will stain or break after one mistake. Brands such as California House and Presidential offer some of the highest quality game tables around, so you can rest assured your new piece of game room furniture is worth the investment.
Look into whether you will need accessories.
Some of the brands we offer come with the option for you to buy matching seating for your new piece. Consider whether or not you'll need extra seating while you're looking through game tables. Buying a game table and chairs or stools that match will help with the feel of the room. Not only will it match your new table, but it will help keep your room's style cohesive. You will have to do the extra research to learn which chairs and stools are most comfortable if you decide you need seating. especially for extended play times, like a long game of poker or blackjack. Also consider a bar area with counter and bar stools– details like this are often what sets apart a nice gameroom from a great one.
Your budget will be what defines the type of furniture you can afford in the end. Whether you get a discounted piece for your living room or something larger and more customized, you'll need to know how much you are willing to spend. Include the cost of accessories and having the table professionally installed in this budget.
The experts at West State Billiards and Gamerooms can walk you through the process no matter what your budget is. Finding the table that fits your need and your budget is no easy task! We can walk you through the customization options, different styles and brands, and offer advice on which is better suited for your type of gameplay. We want you to be happy about your new entertainment setup!
With premium brands such as California House, Presidential, Brunswick, and more, you're sure to find just what you're looking for. Come visit one of our three showrooms or look through our selection online to find just the right one for your dream entertainment space!
Why Should You Choose West State?
At West State, we believe in providing the ultimate entertainment experience by offering only the highest quality products available on the market. Since 1946, West State Billiards and Game rooms has provided the Los Angeles, Orange, Ventura, and San Diego Counties with the best deals on premium game room furniture and accessories. We are committed to providing our customers with the highest standards of customer service and products anywhere in Southern California. Come visit one of our showrooms today and take home your dream gaming table!
Poker/Game Table FAQs:
What are tabletop games?
Tabletop gaming is a broad term for any kind of game you can play at a table, including bridge and poker or any dice games. Unlike other games, there is usually no standard number of players, so table games are great for social gatherings.
How many types of game tables are there?
Poker, or game, tables come in a wide range of shapes and styles. This reflects the versatility and diversity of tabletop games. Some tables can be easily portable while others are much more solid pieces. Some can even double as dining tables.
Depending on the size of your room and your personal style, there are countless of gaming tables you can choose from to fit your needs.
What size should a game table be?
Game tables come in a range of heights and sizes. The average tables can be anywhere from 28 to 50 inches high. Determining the height of the table depends on factors such as the type of games you'll be playing, the amount of people playing, and how big the room is. Tables may also be customized to your specific needs.
Part of this size is also determined by the shape of the table. Gaming tables can come in a circular shape, rectangular shape, or oval shape. Circular tables are particularly popular for games, like poker, where players have to face each other.
Showing 1–12 of 45 results