We offer the best products available on the market at the best price, so you're sure to find exactly what you need. With three warehouse-showrooms in Southern California, feel free to explore what we have on display. Each showroom features a wide range of indoor and outdoor shuffleboard tables, pool tables, and more! Our highly experienced staff can show you all our available game table options, so you can begin building the entertainment room of your dreams.
Unsure what you're looking for? No need to worry. Our experts can guide you through the process of finding the perfect game table and shuffleboard accessories for your needs.
Come see all the products we have to offer! Visit one of our three SoCal showrooms today.
Our Showrooms:
Fullerton – Orange County – 5,000 sq. ft.
San Marcos – San Diego County – 6,500 sq. ft.
Newbury – Ventura County (Los Angeles) – 3,500 sq. ft.
Things to Consider When Buying a Shuffleboard Table
Like any piece of furniture, buying a shuffleboard is no small investment. You want something that will stand the test of time and provide hours of games and gameplay without necessarily going over-budget. Choosing the right one can also make the overall atmosphere of the room it's in a lot more welcoming. Here are other factors to consider before choosing the right shuffleboard for your space.
Choose the right size for your space and playing needs.
It may not be the first thing you think of, but like any piece of furniture, you want to have some measurements in mind to find the right size. New shuffleboards are available in a variety of sizes, from the smallest at 9 feet to the largest at 22 feet. This wide range allows you to find just the right size for your room, so you don't feel cramped while trying to play. You don't want your guests feeling cramped either!
The best way to measure is to account for the amount of space the game table needs and add an additional 2 to 3 feet on all sides of the table so you can be sure players can bend over to properly play.
As a note, most regulation size shuffleboards used in tournaments are 22 feet in length and 20 inches wide. You don't need a regulation size table to enjoy the game, though. Some brands even offer tables as small as 9 feet and others might offer custom sizing at an additional cost. Popular sizes include 12 ft and 14 ft game tables.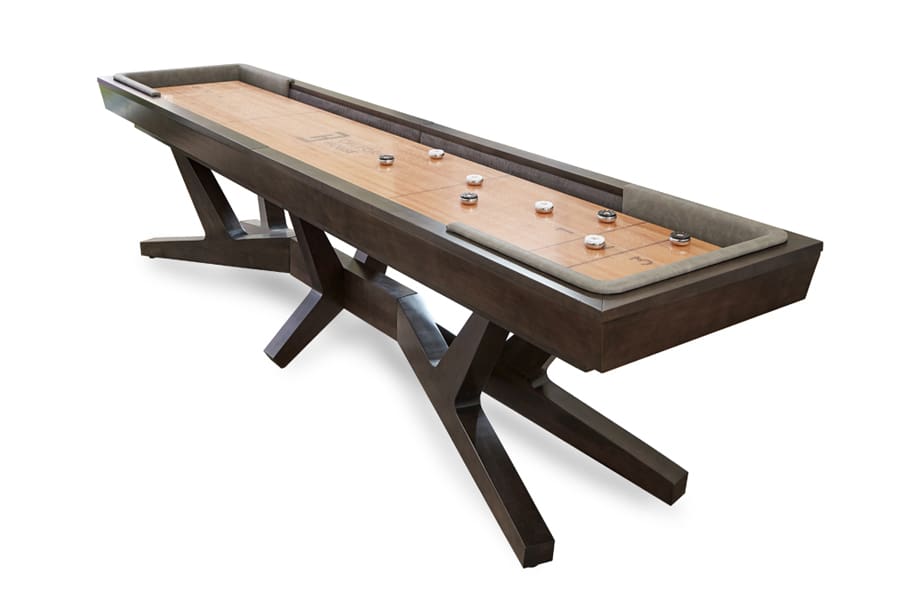 Check for playfield size and thickness.
Traditional shuffleboard tables are 2 – 3 inches thick. This allows for a stable playing field that can also be sanded as needed whenever the table must be refinished. We also recommend choosing a shuffleboard table with a board surface at least 18 inches wide to fully enjoy the game. This is a long-term investment; you don't want a game that isn't fun to play.
Shuffleboard is a game of strategy and needs sufficient space to maneuver the pucks around your opponent's so you can have a fun and competitive game. Make sure all the pucks can fit onto the shuffleboard for the optimal playing experience.
Look into the materials used.
The material used on your game table's surface is important because it can impact your gameplay. You need a durable surface since shuffleboards often become damaged during play due to dropped pucks or high impact collisions with other players' pucks.
In the past, most shuffleboard playing surfaces were made of hard maple wood. Now, you can find tables that use poplar, North American maple, white maple, Russian birch, and Canadian soft maple woods, often covered in epoxy or a polymer. Maple, birch, oak, and mahogany are still considered some of the best materials for a playing surface, though. Most people prefer solid hardwoods because they are stronger and more immune to dents, dings, and any other accidental damage.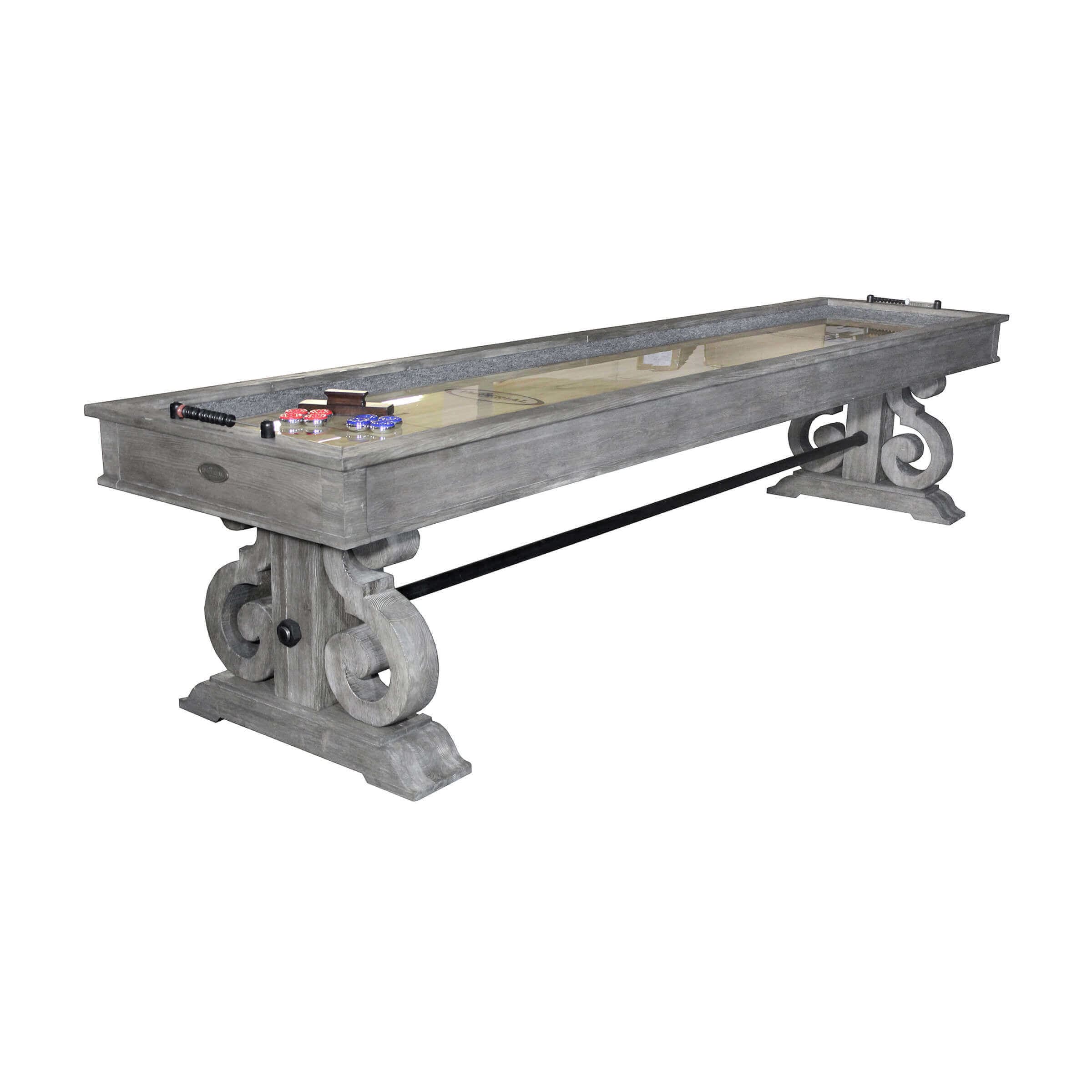 Consider the finish on the playing surface.
The finish is also important to gameplay. Shuffleboards in the past were finished with lacquers to extend the life of the playing surface. Now, they can be finished with polymer (poured epoxy) finishes. The finish is poured on top of the table to prevent air bubbles from forming on the table. Spray-on finishes are also an option but are often inferior to poured epoxy.
Some polymer finishes are so strong, they can protect the game table from damage caused by dropped pucks, even if it's coating a soft wood. Take this into consideration when looking for the right shuffleboard for your home.
Take into consideration the structure of the outer cabinet.
While the playing surface is important, don't neglect the structure of the outer cabinet housing the surface. This holds the entire table together. Professional shuffleboard tables are made with solid hardwood, but some may be made with MDF particle board. Solid hardwood cabinets are preferred as they add weight to the table and keep them in place during intense matches. Like the playing surface, they can also be finished with laminates, lacquers, or veneers.
Check for climatic adjusters.
Shuffleboards should come with climatic adjusters to allow you to maintain the right curvature in the playing field of your table. Changes in climate and humidity levels can cause the surface to warp, so climatic adjusters help keep the warping from affecting gameplay. A shuffleboard's surface should have a slight concave, so the pucks do not fall off the sides of the board.
No matter the shuffleboard you choose, our experts at West State Billiards and Gamerooms can help you find the right one for your needs. We know this is an investment and you want to get the right design and fit for your entertainment room. As part of our services, we even offer professional installation, so you save yourself the hassle of preparing the table for gameplay.
With premium brands like Canada Billiards, Olhausen, Brunswick, California House, and Presidential, you're sure to find the right one. Come visit one of our three showrooms or check our selection online.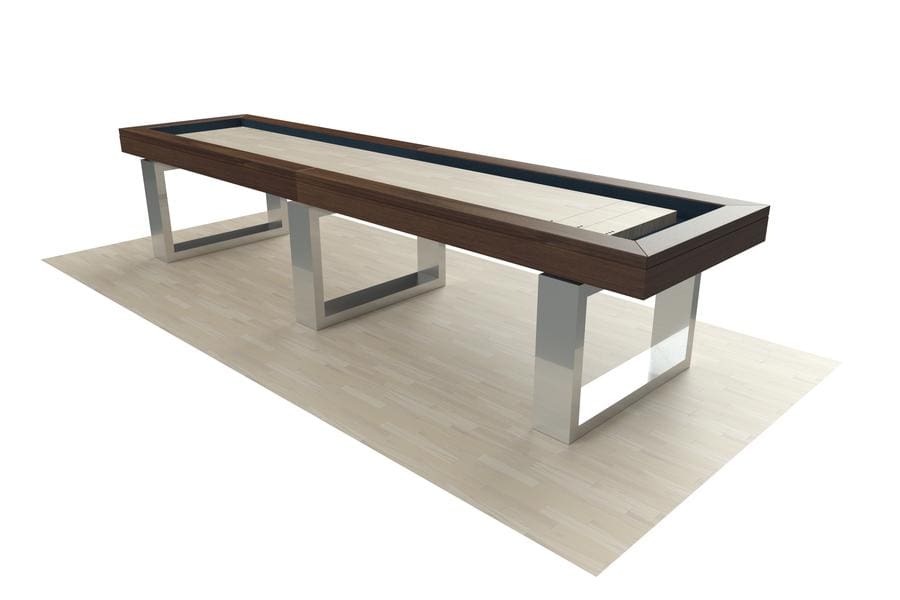 Why Should You Choose West State?
At West State, we believe in providing you with the highest quality products and game room furniture available. We pride ourselves on helping our customers discover just what they need for their dream entertainment space in their home. Our experts can answer all questions they have and find the right size and style. We work hard to make sure you're satisfied with your purchase from the time you buy it to the time it's installed. We also stock a wide range of shuffleboard accessories and table accessory kits.
Since 1946, West State Billiards & Gamerooms has been providing the Los Angeles, Orange, Ventura, and San Diego counties with quality game room furniture at the best price. We are committed to providing our customers with the highest quality of customer service and products in Southern California. Shop the website, contact us by phone or come visit one of our showrooms and take home the perfect shuffleboard table!
Shuffleboard FAQs:
What size is a standard shuffleboard table?
There are a variety of shuffleboard sizes available to fit your needs. Some of the most common sizes include 8-9 feet on the smaller end, 12-16 feet for medium sized tables, and 18-22 feet for larger sizes. A regulation-size, or tournament, table is typically 22 feet long by 20 inches wide. Longer tables will make for a more fun game, but any size can bring you and your family entertainment for hours.
What size is a standard shuffleboard table?
West State Billiards is proud to offer RS Barcelona products online and at our three southern California showrooms. For over 15 years, RS Barcelona has been providing superior quality products with a touch of high design aesthetics that live up to the most intense lifestyle.
As for width, tables are usually 16 to 20 inches wide and the thickness of the board ranges from 1.5 inches to 3 inches. The size you choose should consider the size of the room where the table will be. Shuffleboard tables are measured by the outside length and width of the cabinet, not the board, so keep that in mind, too.
How much room do you need for a shuffleboard table?
There needs to be enough room to get between the table cabinet and your walls. Generally, manufacturers recommend 2 feet of clearance between your table and the wall. You might want to leave a little more room for your own personal taste but no more than 2.5 to 3 feet is actually needed.
What is the best material for a shuffleboard table?
There are a variety of materials to choose from for your shuffleboard table. What you choose will affect its durability and with how expensive these tables can be, you want to make sure your shuffleboard is built to last. The most common materials used for shuffleboard tables are North American Maple Wood, Russian Birch, White Maple, Canadian Soft Maple, and Poplar. While these are softer maples, they are still durable when finished with resin.
The best woods, though, are hardwoods such as birch, oak, maple, and mahogany. If your budget allows it, you should get a shuffleboard made of hardwood.